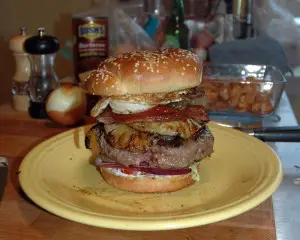 When I think of the way most people eat, images of the Simpson family come to mind. They shovel food into their mouths, loudly scarfing down a meal without any regards for manners or enjoyment of the food itself.
It's a funny image, but it's a terrible way to eat. I recently wrote about the reasons why we binge eat and principles that help us stop. These two main principles are:
Hara hachi bu. This is the Okinawan practice of eating until only 80% full, and then stopping. It takes about twenty minutes for our brain to register that we are full after eating, so even if you feel slightly hungry when you stop eating, you will feel satiated soon after.
Savor the flavor. By taking the time to really enjoy the food you eat, you tend to eat less.
I don't want to just leave you with the principles and no way to apply them, so today I am going to share with you specific tactics you can use to cut down on calories during your next meal.
How To Consume Fewer Calories During A Meal
1. Eat A Handful Of Nuts Beforehand.
If you know approximately when you will be eating your next meal, eat a handful of almonds or walnuts about a half an hour before. This gives your body enough time to reduce your hunger when it is time for your meal.
Nuts are high in fat, which helps satiate you when consumed before a meal. Almonds have been shown to replace consumption of other calories when added to a diet.
As an added bonus, nuts are very healthy, and may help regulate body weight.
Many types of nuts are loaded with antioxidants or other healthy compounds. Walnuts contain large amounts of omega-3 fatty acids, which are involved in many important processes in your body that support health as well as boost mood.
Be careful: Nuts are both delicious and calorie dense. Make sure you don't go overboard. When I say a handful, I mean 10-12 walnuts or almonds (even fewer Brazil nuts). If you eat more than this, you might just add more calories than you bargained for.
2. Eat A Salad As Your First Course.
More than just being good for you, salads are very nutrient dense, meaning they are loaded with nutrients despite being very low in calories.
Instead of throwing all your food on one plate and digging in, try having salad as a first course before you eat the rest of your meal.
A good salad contains plenty of fiber, which helps keep you satiated through a number of mechanisms, such as aiding early signals of satiation and prolonging these signals.
The bottom line is that a salad right before your main course will provide lots of nutritional value, very few calories, and fiber that will help fill you up quicker.
Be careful: Watch out for salad dressings. They can turn a healthy salad into a nutritional disaster. Mike Geary has a great article on why you should avoid salad dressings and a healthy alternative. I personally like to use extra virgin olive oil by itself as a dressing, but only in small amounts.
3. Chew Your Food More.
Most people don't understand what chewing their food actually does.
Chewing is an important part of the digestive process, and signals your body to get in gear for digestion.
Your saliva contains an enzyme called amylase which breaks down starches. If you expose food to amylase for longer, the starches have less of an effect on your insulin levels. When insulin spikes, you tend to consume far more calories than when you have a lesser insulin response.
You should ideally chew a bite of food until it has become liquefied, or about 32 times, according to Horace Fletcher.
There is a Taoist saying to "drink your food". I know, it's not easy to pull this off. You don't necessarily need to be that extreme, but you should chew at least until the food becomes mushy.
To help you out, here are a few ways you can chew more:
Put down your fork. Once you put a bite of food in your mouth, make sure you put your fork down. Don't touch the fork again until you have swallowed the previous bite.
Notice the texture of the food. When you put food in your mouth, pay attention to its texture and how that texture changes as you chew it more.
Notice the flavor. Similarly, you should take note of the flavor of the food while it is in your mouth. One helpful way of doing this is to avoid swallowing until you can think of a couple words describing the flavor and texture without using the food's name. If you eat an apple, you might think of the words "tart" or "rough".
4. Use Smaller Plates And Utensils.
By using smaller plates, bowls, and utensils, you can decrease the number of calories you consume during a meal.
In one study, a bowl of M&Ms was left out for people to take as they pleased, using either a large spoon or a small spoon. When the small spoon was used, far fewer M&Ms were consumed. This is because of "unit bias", or our propensity to assume that a specific unit (spoon size) is the "appropriate" amount.
By having smaller portion sizes, you will consume fewer calories. There is evidence suggesting that increased portion sizes lead to increased calorie intake by increasing the size of the bites people take during the meal. This would suggest that using smaller utensils will lead to fewer calories consumed.
There are psychological reasons for smaller portion sizes as well. The size of a portion impacts our definition of normal consumption. Larger plates suggest that it is normal to consume larger amounts of food in a sitting.
Also, our estimates of how many calories are in a meal are less accurate when a meal is larger, so we tend to consume more when portion sizes are large.
If you want to take a more "advanced" approach, try eating with chopsticks. Thanks to my brother Joel for that suggestion.
Be careful: If you have smaller plates or bowls, you might rationalize that it is ok to take seconds or even thirds. Resist this temptation, because it would negate the entire benefit of having the smaller sizes.
5. Remove Distractions.
It is very common for people to eat while watching TV.
In fact, it's so common that people buy specially made TV dinners!
Unfortunately, eating while distracted causes us to eat more. Watching TV definitely increases calorie consumption.
And this applies even when merely listening to music. Of course, I'm listening to music and eating right now, but luckily I already gave myself a small portion 🙂
From a practical standpoint, removing distractions while eating can be challenging. With your busy life, it can be tempting for you to multitask. If you are going to watch your favorite program on TV, you might as well eat your dinner at the same time, right?
Instead, you should make eating an activity that you only do by itself, without distraction. In fact, eating while distracted makes it more challenging to chew more, so it's a double whammy.
If you can't quite bring yourself to eat at a separate time, here's what you should do. Serve yourself a plate of food, and leave it in the kitchen while your show is on.
During commercials, turn the volume down on the TV and go to the kitchen, where you eat your meal slowly. Repeat as necessary. This has the advantage of allowing yourself time to get full between commercials!
Be careful: While you should avoid most distractions while eating, you can take it too far by only eating in isolation. Regardless of the effect socializing has on calorie consumption, it is nevertheless an important part of family life as well as your friendships. This is simply more important. And besides, if you are actively socializing (as in, talking or contributing to a conversation), you eat slower!
6. Remember Your Last Meal.
Before you eat a meal, spend a few moments consciously thinking back to your previous meal and the details of what and how much you ate.
Your memory of a previous meal on the same day influences how much you consume in your next meal. Crazy, right? Information about prior food intake is factored into how much you decide to eat later.
This is an easy trick to implement. Before dinner, think back to your lunch. Remember the specific items that you ate. That's it.
Be careful: Thinking about specific foods might give you cravings for them. Use common sense here. Don't think too hard about that piece of cake you shouldn't have had earlier in the day, or else you may want some more. Consider the item you ate, but don't visualize it in too much detail.
Other Tricks To Consume Fewer Calories
It's not just during meals that we must be mindful of how much we eat.
There are other steps we can take to help prevent cravings, eat fewer snacks during the day, etc. Here are a few:
Brush Your Teeth
After dinner, my Mom will sometimes brush her teeth so that she is less tempted to eat anything after.
If you have an issue with eating a lot right before bed, this can help.
Another tactic is to brush your tongue using toothpaste when you crave food during the day. I have yet to find a food that goes well with the taste of my toothpaste, and I will let you know as soon as that changes.
This will stop a craving in its tracks, at least for a little while.
But that's usually all it takes before a craving goes away.
Stay Hydrated
I'm sure you've had somebody tell you that we often mistake being thirsty for being hungry.
Well, it's true.
I wouldn't recommend consuming much fluid while you eat because it negatively impacts digestion.
But between meals, you should make sure you guzzle down plenty of water (or, if you are like me, green tea).
On a related note, when you consume calories in liquid form, it is not as satiating. So reduce your consumption of soda, fruit juice, and perhaps even milk.
Just stick with the clear stuff.
Out Of Sight, Out Of Mind
Keep your food away from where you spend most of your time. When food is easily accessible, we tend to eat it mindlessly.
If you have food at your desk, keep it hidden in a drawer.
By keeping food out of sight, you create a barrier between yourself and eating.
In order to eat the food, you need to consciously think of it and then go get it.
While it may not seem like much, this effect can be powerful.
Don't Buy Junk Food
Related to the idea above, you should create a barrier between yourself and eating food that is bad for you.
The best way to do that is simply to not have junk food around.
Make sure that when you go food shopping, you bring a list that doesn't include junk food, and stick to the list.
Go shopping right after eating a meal, and you will be less tempted to buy everything in sight.
Get Enough Sleep
While you might not think this matters, the amount of sleep you get has a direct effect on calorie intake. If you don't get enough sleep, you are likely to consume more calories by snacking more throughout the day.
This consequences is likely due to the hormonal effects of sleep deprivation. Less sleep has been linked to lower leptin levels and higher ghrelin levels. Leptin is a hormone that signals being full, and ghrelin is a hormone that signals hunger.
If your hormones are out of whack, the suggestions above are all far less likely to work, because they will be very challenging to stick with. If you try to fight against your body, you will probably lose.
So make sure you get enough sleep.
Conclusion
We've covered a lot in this post, so let's do a quick recap.
It's all too easy to not listen to your body and overeat. In order to prevent this binge eating, you should practice hara hachi bu, or eating until only 80% full.
The best way to do that is to slow down and be mindful while eating.
Remove distractions, savor the taste of your food, and chew more.
You can also take advantage of the body's satiation response by eating nuts or a salad before your meals.
Then there are more psychological tricks like remembering what you ate last and using smaller plates and utensils.
Your environment is also important to your calorie consumption.
You will be less hungry if you stay hydrated and get enough sleep. If you can keep food out of sight, and keep junk food away from your home entirely, you will be better off.
And as a last line of defense against cravings, you can brush your teeth or tongue.
Do you have any suggestions for how to consume fewer calories during meals? I'd love to hear them.
If you found this page useful, would you mind doing me a favor and giving me a "thumbs up" on StumbleUpon? I really appreciate your help in spreading the word.
Related posts: