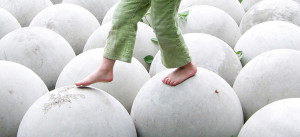 Did you know that according to the Alzheimer's Association, there are 5.4 million Americans currently living with Alzheimer's disease1?
Dementia and cognitive decline are a huge problem among the elderly population. But luckily it doesn't have to be that way for you.
Exercising your brain and fueling yourself with the right foods will go a long way towards protecting yourself. But there is also one type of physical exercise that has an incredible effect on your cognitive function.
The Trick To Prevent Cognitive Decline
While you might be expecting the trick is some sort of secret, complicated body movement performed by Buddhist monks in Nepal, it's actually quite a bit simpler!
So, how can you improve brain health and prevent cognitive decline in old age?
Walking!
That's right. You don't need to spend any money. You don't need any equipment. You can do it anywhere, anytime.
But when it comes to something as important as your mental health, you shouldn't just take my word for it. Let's take a look at the evidence.
For starters, a study on elderly individuals with mild cognitive impairment showed that a six month intervention involving walking (but also other moderate intensity physical activity) improved memory and cognitive function up to 18 months after the start of the experiment2.
Let me rephrase that for you. Individuals who had three 50 minute walking or light to moderate exercise sessions per week had better mental functioning a full year after they stopped exercising.
Another two studies involving questionnaires showed that in both women and men, cognitive decline could be prevented or delayed by walking for at least 150 minutes per week3,4.
Questionnaires are far from perfect as far as research methods go. But a prospective study on elderly men showed that those who walked at least two miles per day had a significantly lower risk of dementia than those who walked less than one mile5.
Finally, a prospective study on elderly women showed that those who had higher levels of physical activity were less likely to experience cognitive decline than those who were inactive6.
Ok, I think that's enough.
But now, more importantly, how can you get the most out of your walking to help boost your brain power?
Getting The Most Out Of Your Walk
If you just want to pace around your living room with a pedometer until you've walked enough, be my guest.
But for those of you who aren't afraid of natural light, there are a few ways you can get more out of your walking experience.
1. Go exploring. Are there any nooks or crannies in your city that you've never gone down? Check them out! Going to a new area and learning your way around helps to increase the size of your hippocampus, which is involved in memory7.
2. Walk through the woods. Spending time out in nature can help you restore your directed-attention abilities8. If you need to focus on something, spend a half hour walking around in the woods beforehand.
3. Clear your mind. A walk is a great time to practice your meditation skills. We all know meditation is good for our brains, but so few of us take the time to incorporate it into our lives. You can easily kill two birds with one stone by meditating while you take your walk.
Conclusion
Anyone interested in a healthy lifestyle should be concerned with their mental functioning in old age. Alzheimer's and cognitive decline are huge problems that don't seem to have a cure. But they can be prevented.
Walking is a very simple activity you can incorporate into your life today in order to reduce your risk. You can super charge your walk by exploring an unknown area, walking through nature, or meditating.
Can you think of any other benefits of walking regularly?
Footnotes:
1. http://www.alz.org/alzheimers_disease_facts_and_figures.asp
2. http://jama.jamanetwork.com/article.aspx?articleid=182502
3. http://jama.jamanetwork.com/article.aspx?articleid=199487
4. http://www.neurology.org/content/63/12/2316.short
5. http://jama.jamanetwork.com/article.aspx?articleid=199484
6. http://www.ncbi.nlm.nih.gov/pubmed/11485502
7. http://neuroanthropology.net/2008/07/03/cabbies-brains/
8. http://www.umich.edu/~jlabpsyc/pdf/2008_2.pdf
Related posts: