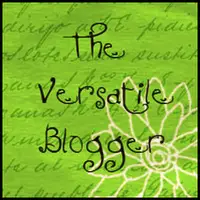 Thank you, BendedBrains, for conferring upon me the versatile blogger award!
Technically, you would be my first choice in terms of being a versatile blogger, since you write about such an interesting and eclectic set of topics, but hey, I'll take it!
Of course, with great power comes great responsibility, and I therefore must pay it forward, awarding fifteen more bloggers with this award! The following fifteen blogs are about a variety of different topics, but each one touches upon something I am really fascinated by or enjoy a lot.
So, without further ado, here are the fifteen newest winners of the Versatile Blogger Award!
1. BendedBrains: The blog of one of my close friends. Written in an entertaining manner, he covers random musings as diverse as morality and BMX jousting.
2. The "Why" Blog: Another blog written by a friend of mine. This one is primarily about ethical/psychological/philosophical issues. Definitely a thought provoker.
3. Get Rich Slowly: One of the first blogs I ever started reading, get rich slowly talks about all manner of personal finance issues. Tons of useful information on just about everything related to personal finance.
4. Early Retirement Extreme: Another personal finance blog, but as the title says, it is extreme. This blog is all about retiring VERY early, like after five to ten years of working, by cutting expenses down drastically.
5. Mark's Daily Apple: This blog is about living a "primal" lifestyle. It is sort of like the paleo diet if you have ever heard of that, but is still unique and covers far more than just diet.
6. The Daily Lipid: This is a bit more technical, but is a health blog, largely about how cholesterol is not the evil nutrient that it is made out to be in the media.
7. Bros Like This Site: This site is just hilarious, and as a bro, I appreciate it even more.
8. The Art of Manliness: A great blog that covers all things manly.
9. Steve Pavlina: Probably my favorite blog. You've seen me link to it many times already.
10. The Happiness Project: Definitely one of the blogs that I am trying to model to some degree.
11. Pro-Libertate: If you wan't to scare yourself by reading about the atrocious things our government is doing to our freedom, go here. It's very enlightening.
12. The Art of Non-Conformity: A great blog by Chris Guillebeau, whose stated goal is to travel to every country on Earth. He is well on his way to that goal.
13. The 4-Hour Workweek: Tim Ferris's blog about lifestyle design.
14. Zen Habits: One of the most popular blogs out there, this blog needs no introduction.
15. Urban Monk: Another great personal development blog that is a little more based off eastern thought. Very interesting.
Apparently my job isn't over yet. I can't accept this award without giving seven interesting facts about myself. So…hopefully you find this interesting!
1. I will be moving to Israel in two months to teach English for about a year.
2. I have hitch-hiker's thumb to an absurd degree. Like, it bends 90 degrees. I know, gross.
3. I have a super-human knowledge of Simpsons quotes.
4. Dark chocolate is my one weakness.
5. I got to hike for four days to Machu Picchu once. There was a landslide less than 24 hours ahead of us, so I got to walk over a destroyed path for some of the time. It was awesome.
6. I hate reading fiction. But my English teacher during my junior year of high school recommended the one fiction book to me that I still really enjoy: Lost Horizon. Read it.
7. I love the band Circa Survive. I actually cried the first time I saw them. They are that good.
Related posts: