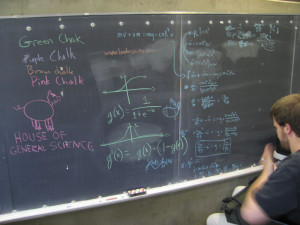 How can you maximize the amount of happiness you experience over a lifetime?
There is no single, correct answer to this question that would take into account all the variables that go into happiness, including aspects that are unique to you.
But I am a math nerd. And as a math nerd, I feel obliged to create a model for anything that I see.
By definition, models are imperfect. They are not reality. They are just approximations of reality.
Models are useful because they take something that is incredibly complex and then make it simple and understandable. Then you can manipulate the variables in your model to achieve some desired effect.
This post may seem a bit technical, but bear with me.
The Model
While smoking a cigar at an amphitheater overlooking the Mediterranean, I thought up this model:
Total Happiness = T x [G x (PEF x PEI + SPF x SPI) – NEF x NEI]
In this model, T = time alive, G = gratitude factor, PEF = peak experience frequency, PEI = peak experience intensity, SPF = simple pleasure frequency, SPI = simple pleasure intensity, NEF = negative experience frequency, and NEI = negative experience intensity.
For our purposes here, a peak experience is any experience that was particularly awesome. No need to get too scientific.
Limitations Of The Model
Before going over the positive aspects of the model, it's important to explain its limitations.
To reiterate what I said in the introduction: models are imperfect. This model by no means captures everything that goes into making you a happier person (although it does capture a lot).
So, what are the problems?
First of all, this model measures total lifetime happiness, which might not ultimately be what you care about. You might prefer having a greater concentration of happiness over a shorter period of time, for example.
Secondly, the model is linear. Another unit of peak experience will increase happiness by the same amount. In reality, there are diminishing returns here. In other words, as you have more and more peak experiences, the happiness you gain from them will decrease.
This can be mentally accounted for by saying that the PEI value goes down as PEF goes up, but a more complex model is needed to really deal with this problem.
The model also assumes that all the variables are stable over time, which is of course not true.
You can feel more gratitude for some experiences than others. Think of the numbers here as averages for now, and maybe one day I will come up with a dynamic model that takes these changes into account.
Finally, the variables are very broad and not well defined. This makes it almost impossible to use a model like this for actual measurements. That being said, the model is still useful.
What The Model Does Right
Despite its imperfections, this model still helps us understand our happiness in a less haphazard way than how most people talk about it.
Some people might think that peak experiences don't deserve their own category in a model like this. But the best experiences of our lives, of course, contribute a significant amount to our total happiness.
For example, my Dance Marathon and Bonnaroo experiences hold a lot more weight in my total happiness than an average day.
And so does this past weekend of insane amounts of trance music.
The time factor is important, and something that many people don't acknowledge despite how obvious it is.
The longer you live, the more happiness you accumulate, unless somehow your negative experiences outweigh the positive ones. But that is VERY rare.
Actually, there are many good things about this model, but the rest will be detailed more thoroughly in the next section.
What Can You Learn From The Model?
A lot, actually.
And I'm sure there is more to it than what I'm going to say in the next few paragraphs. But this is all off the top of my head for now.
If you can gain any other insights on the model or improve it in any way, let me know!
The Importance Of Gratitude
The first and most important insight from this model is the multiplier effect that gratitude has.
Your level of gratitude has unlimited power to magnify your happiness. If you have a very high propensity for gratitude, then even an individual minor pleasure can give you tons of happiness points.
Top score!
The average "gratitude quotient" is one, and therefore has no effect on total happiness.
Many people have a gratitude quotient of less than one, which means that they are missing out on a whole lot of happiness that they are entitled to have, given their experience.
On the other hand, some people have a quotient higher than one, which means they gain a larger amount of happiness given the same experience as someone else.
This is a high impact area that you can work on! By improving your propensity towards gratitude by even a small amount, you can increase your total happiness by a lot.
The Importance Of Longevity
This model oversimplifies the issue of health and longevity, but we can still glean valuable information from it.
The amount of time you live is the variable with the widest effect in this model. Living for just a moment longer, all else equal, will do more to increase your happiness than anything else you can do.
"But Mike! If I'm suffering, how does it make me happier to prolong my life?"
The answer: I don't know; it might not.
But this model is about a long term approach to accumulating happiness over a lifetime, not a guide to making hard life decisions at the last second.
If you want, you can think of T as your number of healthy years of life instead of total years alive.
So if you predict a positive net happiness over the rest of your life as most people do, it is in your best interest to maximize your healthy lifespan.
Of course, things like eating desserts can give you happiness points in the short term, but are bad for your health. In cases like this, it's not obvious what the optimal decision is, but I will go over this more in the next section.
Use "Rules" Appropriately To Help Optimize Your Happiness
In order to manifest the optimal values for the variables in this model, it is helpful to create good "rules" for yourself.
I put rules in quotes because you should plan to break them fairly regularly and without feeling bad about it.
A good example of a rule would be to eat five or more servings of vegetables per day. Try to do this six days a week, but don't sweat it when you miss a day. This rule will help keep you healthy but by allowing yourself to break it regularly, it won't add much stress to your life.
Or you might make a rule to not eat ice cream. Again, this will keep you healthier. On the other hand, it would drive someone like my mom insane. So once every week or two, you allow yourself to eat some ice cream (in moderation). That way you can still increase your SPF.
Good rules will help you to optimize your PE and SP values. For example, you can make a rule to only go to three (or some other number, whatever you think is best) music festivals per year.
There is some number that maximizes the value of (PEF x PEI + SPF x SPI), which usually results from limiting your PEF to a point before marginal returns diminish too much. Without using more advanced math, it's hard to predict exactly where this will end up.
Keep in mind this point from one of my favorite books, "Lost Horizon": do everything in moderation…including moderation.
I like to think of this as finding balance, and then shaking it up every once in a while before returning to a balanced lifestyle.
This works so well because so many of our best experiences (PE) come from our excesses, but we appreciate simple pleasures the most when we live a balanced, healthy lifestyle.
For example, it is generally a good rule to get a full night of sleep. But if you do that every night, you will miss out on all sorts of great possible experiences.
Every once in a while, it's good to stay up all night at a trance festival or have deep, philosophical discussions late into the night with your bros.
Looking Forward: Some Questions About The Model
There is quite a bit left to be explored with this model for total happiness. In this section I will discuss some questions of interest that should be looked into in the future.
1. What Are The Weights Of The Happiness Components (PE, SP, NE)?
In other words, what percentage of the total happiness comes from peak experiences, simple pleasures, and negative experiences?
We can think of this as two separate questions:
What is the optimal weight for each?

What is the typical weight for each?
The answer, of course, is going to be different for everyone. But perhaps there is a somewhat predictable range that is typical or optimal for most individuals.
More spontaneous or impulsive individuals might derive a higher percentage of their happiness from PE and have a larger magnitude of negative happiness from NE, for example.
I believe that most people derive most of their lifetime total happiness from the simple pleasures because there are so many more of them.
Perhaps the normal person gets -20% from negative experiences, 20% from peak experiences, and 100% from simple pleasures (just a guess).
I think I tend to lean more towards peak experiences, so it might be -20% from negative experience, 35% from peak experiences, and 85% from simple pleasures.
How do you measure up?
2. How Does Diminishing Marginal Returns Work?
I've mentioned the idea of diminishing marginal returns several times in this post, but it's not clear exactly what the effect of it is.
How rapidly does the marginal return for your peak experiences drop? Are there diminishing marginal returns for simple pleasures as well?
It's quite possible that these questions have already been studied, and I will look into this. But for now, I just don't know.
Here is my best guess. I don't think that there are diminishing returns for simple pleasures, or if there are, it is a very slow process.
And as for peak experiences, it depends on the nature of the experience. If I went to a music festival every weekend, I would burn out very quickly. At the same time, as I go to more, I get better at preparing for them and thus I actually increase my marginal return.
On the other hand, gorging myself on cookies is only enjoyable every once in a while. It's not something that takes practice. If I eat a dozen cookies on two different occasions in the same week, the second one provides me with far fewer happiness points that the first.
3. Is The Gratitude Quotient Different For SP And PE?
It's quite possible that our ability to feel grateful for peak experiences is different from simple pleasures.
In fact, it's likely that this is the case. More impulsive individuals probably are more capable of feeling gratitude for peak experiences than they are for simple pleasures. Tibetan monks are probably the opposite.
If this is the case, different techniques can probably be used to improve each of the two gratitude quotients. It would also have a huge impact on the weights from question one.
Conclusion
As I have shown, there are both many positives and many negatives to this model, as well as unanswered questions about it.
Despite the complexity of attempting to model happiness, it appears to be a useful tool or way of thinking about improving your happiness over your lifetime. At least for nerds such as myself.
Do you think this model could be useful to you? Do you think any model could be useful to you?
Related posts: