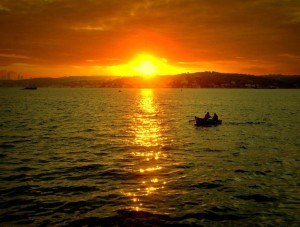 Oftentimes when I'm not feeling my best, the problem is that I lack an appreciation for the "simple pleasures" in life.
I will go through my day only half awake, unaware of the beauty all around me. Everyone experiences times like these, but it is critical for our happiness that we minimize the amount of time spent in this state.
Before going into some exercises, I want to go into more detail on the problem itself.
Let's take two people, Adam and Bret.
Both of them have a very similar Saturday from an objective standpoint. Both are college seniors, and therefore wake up around noon, slightly hung over.
They go get breakfast (eggs, a great hangover remedy by the way) and then go back to their house, lay in bed, and watch TV all day until going out again at night.
At the end of the day, Adam interprets his Saturday as a success, whereas Bret believes it has been a total failure. What happened?
When Adam ate his breakfast, he was tasting how delicious it was and observing how it made him feel good to eat. Bret, on the other hand, viewed eating as an obligation, and spent his time eating because he thought he needed to.
While Adam watched TV, he laughed along with his favorite show (The Simpsons, of course), and enjoyed relaxing on his bed until he no longer had a headache. Not only that, he thoroughly enjoyed drinking his daily cup of tea.
Bret simply felt incapable of doing anything else, and watched TV because there was nothing else to do. He also had a cup of tea, but barely even tasted it.
Notice how the character of their day was not particularly stimulating.
It's not as though they went to some awesome rave or did anything the least bit exciting. There is nothing overtly awesome about this day, and yet Adam considers it a really good time.
The difference between Adam and Bret, of course, is that Adam derives pleasure from the simple things. He doesn't need to compare the joy of going to a wild party to the joy of a cup of tea; he can simply enjoy it as it happens.
This difference is a matter of your mindset rather than any sort of "trick" or "hack".
It's not possible to go from not appreciating the simple pleasures to fully enjoying them at all times overnight.
Naturally, there is a spectrum that ranges from anhedonia, where you cannot appreciate anything, to euphoria, where everything is friggin amazing. Without the use of chemicals, we usually operate somewhere in the middle of this spectrum, and everyone is at a different point.
Techniques For Appreciating The Simple Pleasures
Our aim is to move from wherever we are on the spectrum towards the "euphoria" side. Here are some exercises which should help.
Exercise #1: Check Yourself
Periodically throughout the day, ask yourself, "Am I enjoying to the best of my ability the activity that I am currently engaged in?"
Be honest with yourself.
If the answer is yes, then great. If the answer is no, then you have a number of options.
See if the activity is necessary. If it's something that you know you don't like to do, and you don't have to do it, then stop.
Isolate the positives in your situation.
Change or add to the activity to make it more enjoyable.
Let's say you are drinking a cup of tea while working on an assignment for class.
You remember to ask yourself if you are enjoying the moment, and you realize you are not.
You know that the assignment is due tomorrow and is very important, so you can't simply ignore it. Instead, consider that you are in fact doing something important, and accomplishing the task brings you closer to other goals in your life.
If you want, you take a break, relax, have a sip of the delicious tea you are drinking, and notice the situation isn't nearly as bad as you thought it was. Hell, if the tea isn't enough, you can go take a few minute break to meditate, take a walk, or do something else you enjoy.
Exercise #2: Go On A Simple Pleasure Binge
Write a list of at least 42 (preferably more like 50-60) things that are simple pleasures to you.
Every day for the next two weeks, pick three new items on the list and do them that day.
Feel free to take advantage of a simple pleasure more than once during those two weeks, but make sure you do three different ones each day. Fourteen days times three equals 42 simple pleasures, get it?
It's not enough to simply do something on your list so you can cross it off.
You must do it and be immersed enough in the activity to enjoy it thoroughly. If you didn't enjoy doing it, then it doesn't count.
I've included a list of some of my simple pleasures for you to get ideas from, but please come up with your own.
Be honest with yourself. Don't put something on there because you want to enjoy doing it. Only put something on your list if you know that you actually find that activity pleasurable.
Take your time here, because this exercise will only be effective if your list truly reflects your own desires. You should regularly update it with new items as you think of them.
Here is my list:
1. Having a cup of tea
2. A cold beer
3. A leisurely walk in a park or through a nice area
4. Listening to good music with my headphones on
5. Dancing by myself in my room
6. Getting lunch/dinner with a friend I haven't seen in a while
7. Watching the Simpsons
8. Eating a square of dark chocolate
9. Spending a half hour doing yoga
10. Making eye contact and smiling at a stranger
11. Sitting on the porch and people watching
12. Putting on clothes straight from the dryer
13. Dressing nice to feel like a boss
14. Dressing comfortably in pajamas/sweats to feel at home
15. Going to bed in newly cleaned bedsheets
16. Reminiscing about old times with close friends
19. A very challenging workout
20. Physical contact with women (holding hands, putting my arm around them, etc.)
21. Playing racquetball
22. Playing volleyball
23. Taking a long and relaxing shower
24. Watching the sunrise
25. Getting a massage
26. Meditating for twenty minutes
27. Practicing my Hebrew
28. Trying to learn to write music
29. Writing something that I expect will help others
30. Showing gratitude for something I truly do appreciate
31. Doing a favor for a friend
32. Accomplishing the various small tasks that must be done
33. Eating food and savoring every bite
34. Doing something spontaneous
35. Having a banana/peanut butter smoothie (banana flips from Hansel n'Griddle are amazing)
36. Blast music loudly
37. Play spades
38. Read for an hour
39. Play Super Smash Bros. with friends
40. Practicing liquid dancing, poi, or glowsticking for an hour
41. Try a new restaurant or food I have never had before
42. Drink a glass of top shelf whiskey on the rocks
43. Shadow box or hit a punching bag for a half hour
44. Smoke hookah
45. Go on a date
46. Have a glass of wine that is matched well to my meal
47. Have long conversations with my siblings
48. Plan a vacation or trip, even if I'm not going to go on it
49. Watch hilarious videos on youtube, or look at memes
50. Learn about a totally new topic, issue, or philosophy.
51. Watch a DVD that I haven't seen in a while
Let me know about your experience doing these exercises!
Related posts: