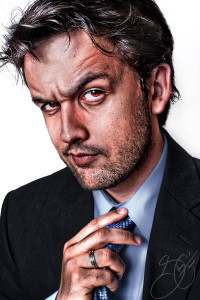 Last week, I wrote a post about how to give great compliments to other people. Here is an important excerpt:
"As you become more proficient in finding positive aspects in other people, you get better at seeing positive aspects of yourself."
Seeing the good in other people is not just necessary for giving good compliments; it also substantially improves your own happiness!
Unfortunately, it's not always easy to see the good in others.
We are familiar with the atrocities that many humans have been involved in, be they genocide, war, murder, child molestation, pyramid schemes, etc.
Plus, we've all been wronged numerous times. It's hard to see the good in someone when they just lied to you or cheated on you.
To make matters worse, your own brain is conspiring against you! We have an intrinsic "negativity bias", or tendency to focus on and give more weight to negative experiences or information instead of positive ones.
A common example of the negativity bias would be our relationship with dogs. Almost everyone has had many great experiences with dogs throughout their lives. But if you were bitten or attacked by a dog, you are likely to be scared of them for the rest of your life because you focus on the one negative experience instead of the many more pleasant ones.
It turns out that the negativity bias is so ingrained in our psychology that it has already developed and become measurable by time you turn seven months old1!
Clearly, seeing the positive attributes in others is an uphill battle.
But it can be done, with a little bit of work. And as I already pointed out, it is worthwhile if only to help see the good in yourself.
Your Labels Aren't Real
Are there "good" people and "bad" people? Can some people be "cruel"? Is anyone really "empathetic" or "fun" or "funny"?
These words are all labels. They take a complex array of behaviors, character traits, and attitudes, and simplify them down to a single word or phrase.
While labels are very helpful for communicating, their simplicity changes the meaning of a person's behaviors.
You might think of a thief as a "bad" person. I would tend to agree.
But what if that thief is a Robin Hood type character who steals from the rich and gives to the poor? Or what if the thief is himself poor and steals just enough to feed his starving family?
I'm not arguing here that those are morally acceptable reasons for stealing. My point is that calling them a "bad" person is a bit premature. It's just not that simple.
Remember, these labels are not intrinsic features of a person; they are merely creations of the mind to help describe them.
Instead of considering your labels of others as the final word on the matter, challenge them.
After labeling someone, ask yourself: "Were they like this yesterday?" If not, then why would they be like that tomorrow?
If yes, then ask yourself: "Am I taking a one sided view of this person? Are there other people out there who might look at them differently?"
Before you can consciously look for the good in others, you must understand the subjectivity of labels. As you practice challenging these labels, it becomes easier to see people however you want to see them (i.e., more positively).
Your Basic Social Skills
There are three very simple social skills that will help you see the good in others. They might seem obvious, but you'd be surprised how often you don't do some of these things.
1. Slow Down And Be Curious About Others
Don't rush into making judgments about other people.
Take your time and gather some information about them first.
You should enter your interactions with an open mind, curious to find the positive attributes that the other person possesses.
Wouldn't you prefer to be interacting with a person who you actually like?
In order to see the good in other people, you need to look for it.
This takes both patience and a curious mind that is ready to accept the good attributes of others.
2. Look Them In The Eyes
This used to be a huge problem for me, and I wasn't even aware of it for years.
As soon as I started making stronger eye contact with people, the world opened up to me. It was like I had been blind and could suddenly see.
Eye contact is an important part of your social skills toolkit for countless reasons. It is practically a prerequisite for finding the positives in other people.
When you look someone in the eyes, you stay focused on that person rather than the multitude of distractions in your head and in your environment.
Not only that, but it helps you build a connection with that person. You'd better believe that will help you see them in a more positive light.
3. Smile At Them
Usually, they will smile back.
And when they do, you immediately have good things about them (nice smile, friendly, positive attitude, etc.). That was easy.
Smiling puts you in a good mood, and will make the other person like you more.
When you feel good, it is far easier to see the good in others. And if they like you, they are more inclined to show you the positive aspects of them.
Smiling greases the wheels of this whole process.
By neglecting to smile when you talk to other people, you give up one of the easiest things you can do to help you see the good in others and have a positive interaction with them.
More "Advanced" Techniques For Seeing The Good In Others
The social skills mentioned above are a fantastic starting point. But by themselves, they don't guarantee that you will find positive attributes in others.
That's where the following techniques come in. These require somewhat more work, but they are incredibly powerful.
1. Find The Positive Intention Behind Every Action
Underlying every human action is a positive intention.
This may be hard to believe, especially considering the atrocities that I mentioned above. But even behind those horrible actions, there was a positive intention.
Before you start yelling at me, let me clarify.
A positive intention doesn't have to be altruistic. For example, wanting to feel good is a positive intention even though it doesn't help others.
If you dig deep enough, you can see the positive intention behind each and every action. The actor is still responsible for their action, and the positive intention doesn't imply that the action they took was the correct or most effective one.
You don't have to believe that this is true.
But since you can't prove that it is right or wrong, why not "try" believing it if it could be useful to you? Whether or not it is objectively correct that there is a positive intention behind every action, you should behave "as if" this were true.
From now on, try to find and become aware of the positive intentions underlying everything that everyone does.
It's rarely obvious what their positive intention is. That's ok. You just need to accept that there is one and you will be more tolerant of other peoples' "bad" behavior (i.e., less affected by it. Again, their action need not be moral or effective).
An exercise to help you start thinking this way is to have a conversation with one of your close friends or family members, and become aware of their positive intentions. You already like them, so this should be easy. How does it feel to be with this person while you consider their positive intentions?
The next step is to notice the positive intentions of strangers. You don't even have to interact with them; people watching is good enough. You'll find that many strangers act out of a desire to do a good job, to be fair, to be kind, or any number of other positive reasons.
The final, most challenging step is to find the positive intentions in people who you don't like very much. Even when they are annoying, you can think of possible positive intentions behind the way they act.
This is such a powerful concept, because it allows you to reframe anything into something positive.
2. Forgive Others For Their Actions
It's rarely easy to forgive someone who has wronged you.
But you must be able to let go if you ever want to see the good in that person.
Don't stop at forgiving just the people who have wronged you; forgive everyone for their actions.
And don't forget what is possibly the hardest thing of all: forgiving yourself.
Knowing that there is a positive intention behind every action makes forgiveness a much easier pill to swallow.
3. Use Your Reticular Activating System (RAS)
Your RAS is the part of your brain that controls and directs attention. It is an unconscious "filter" that picks out bits of information that your conscious mind finds important.
When you focus your attention on something, your RAS looks for information that reinforces whatever you have directed your attention to. If you hold a particular belief, your RAS finds evidence to support the belief.
If you start looking for good attributes in other people, your RAS will do its best to find them. You don't really need to do anything except look for the good in others, and you are already more likely to find it.
But you can speed this process along by taking advantage of this system.
Pick a belief about someone that you want to adopt. For example, that Person A is a good human being. Carry around a piece of paper with you. Any time you notice any evidence to support this belief, write it down. Then at the end of the day, review all the evidence you have found.
Don't underestimate the power of this exercise. There is no quicker way to "install" a new belief into your head than this.
Conclusion
Seeing the good in other people is a challenging pursuit, but well worth the effort.
Basic social skills like smiling and maintaining eye contact will help.
But to truly succeed here you should start noticing the positive intentions underlying peoples' actions and forgive them for these actions.
The fastest way to do this is to take advantage of your reticular activating system and look for evidence that other people possess good qualities.
When you start putting these ideas into practice, you will have a much more positive view of the people around you, and you will notice more of these positive attributes in yourself.
Undoubtedly, you will be far happier because of your efforts.
Do you have any more advice on how to see the good in other people?
Footnotes:
1. https://docs.google.com/viewer?a=v&q=cache:CRnozTfMgzIJ:www.researchgate.net/publication/5407136_Not_all_emotions_are_created_equal_the_negativity_bias_in_social-emotional_development/file/79e41506c63f3cbad2.pdf+negativity+bias&hl=en&gl=il&pid=bl&srcid=ADGEEShbeq_ginoqRR06TJA06QDZxpvhf6ED2VSdSdTRjyRviC83-0Un8cU0jDYq-kLjtC9Ekv0firIMHarWBZvQ9ZR5A14kp368K0QSahUvw_X6RXxIAemrPJuG8OLFkpewMtXML0Ep&sig=AHIEtbRDzqgik6XpxfEy5zNsG_OnIZQn8g
Related posts: