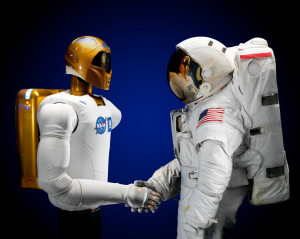 From a very young age, we are repeatedly told not to talk to strangers.
Since there are bad people out there and young children are not adept at discerning who they are, it seems to be a good idea in order to help protect them.
Unfortunately, the price that we pay for this safety is that children grow up suspicious of others and their motives. We tend to have a "fear" of strangers. This fear is unwarranted as we grow older.
The vast majority of people out there are not sociopaths.
In fact, most people are quite friendly. What once protected us from bad people is now preventing us from establishing relationships with good people!
I think that most of us understand this on an intellectual level.
In general, you know that the random stranger on line next to you is very unlikely to kidnap you, yet the emotion of fear is still associated with talking to them. So you usually don't do it.
But you miss out on a lot by closing ourselves off to new people like this.
Instead, you should actively assume that people in general are friendly.
This is an especially good assumption to make because it is actually true, and once applied, you will very quickly realize it.
Why You Should Talk To Strangers
Here is why we should assume people are friendly:
1. Because They Are.
Like I said, most people actually are friendly.
If you start a conversation with a stranger, there is a very high probability that they will be receptive toward you.
We are social creatures, and as such, we welcome interactions with others.
Think about it; when a stranger starts a conversation with you, how do you usually react?
2. It Can Spice Up That Moment.
Meeting random strangers can be really fun.
You aren't committed to ever talking to them again, so if the person is really strange, it can make the interaction fun without any negative consequences.
3. It Can Be A Good Story.
Even if a conversation goes poorly, it can make a great story.
Again, you are in no way committed to continuing an interaction with anyone, so no matter how much of a jerk they are, they will be a mere footnote in your life within hours.
And those footnotes can be hilarious in hindsight.
4. You Never Know Who You Might Meet.
The person behind you on line could one day be your best friend or wife.
It happens.
But even if it's not that extreme, you never know if that person has a job opportunity for you, is in the market for that sound system you want to sell, or is just a cool person who you would enjoy having a conversation with.
How To Start Interacting With Strangers
If it's such a good thing to assume other people are friendly, how do we get from here to there?
First, we must have the right mindset. I like to think of the Circa Survive lyric, "A stranger is just someone that you've forgotten."
Brilliant.
As I was shopping for a computer when getting ready to go away to college many moons ago, there was a girl looking at the same computer.
We talked about it for a minute, and then sometime during the conversation we realized that we knew each other.
It turned out she was Cailey, one of my best friends from elementary school who I hadn't seen in nearly ten years!
You never know when that stranger near you is actually an old friend, so you might as well assume the best.
Despite this, some people are still afraid to start conversations with strangers. They fear that the interaction will go poorly or it will be embarrassing.
It might.
Sometimes the other person is in a bad mood. Sometimes they are in a rush. And of course, some people are just jerks.
In all these instances, it's not about you. So don't take it personally. Remember, it will be a good story.
It's very rare someone will actually be hostile towards you when you start a conversation.
More common would be to have a seemingly awkward conversation. But since you are under no obligation to keep the conversation going, who cares?
Just stop, and it's not a big deal.
Most likely though, there will be a friendly exchange, and none of the possible fears will have been warranted.
So, how do we actually go about talking to more strangers?
You can talk to strangers anywhere, but I'll include a couple of the good ones here.
1. Carry A Lighter.
This is one of my favorites.
A lighter will cost you less than $2, and it will last for a really long time if you aren't a smoker. I started carrying a lighter after getting asked for a light for the 3287463th time.
This is great because you get to start the interaction by helping someone else out.
They will be grateful for the light, and are among the most receptive people to conversation after that.
2. People In Line.
If you have to wait in line for anything, you have a great opportunity to talk to those in line around you.
There is an automatic commonality between you; you are waiting for the same thing.
It's also really boring to wait in line, so why not spice it up by talking to someone new?
3. The Internet.
Obviously, you should use some discretion with this one.
But the internet has great potential for meeting like-minded people in a safe environment.
I recommend using chime.in, which is a social network organized around interests and encourages connections between strangers.
Conclusion
There are many more possibilities, but the three above are some of my personal favorites.
If you have any favorite places to meet new people, please share them!
Related posts: