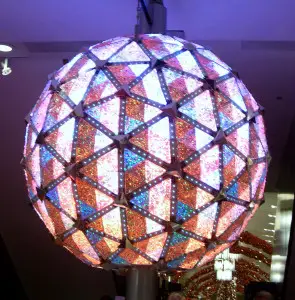 "This year will be different", you think to yourself.
It always starts off the same way.
You feel inspired, totally motivated to make whatever changes your life badly needs. Finally, things are about to improve.
For the first two weeks of January, you are doing great! You do everything you set out to do, and perhaps you even notice some results for your efforts.
But then, towards the end of January, you begin to backslide.
"It's just one pastry."
"It's just one workout I'm skipping."
"I don't have to work hard on my business today, I can do some next week."
"I've been so good this year, one cigarette couldn't hurt."
And then by around Valentine's day, you are back where you started. Same old behaviors, same old results.
Do you have any New Year's resolutions? Most people do.
And you know what else most people do? Fail.
Perhaps I'm coming off a little bit harsh here, but I hate New Year's resolutions. They aren't all bad (and I'll get into how to make a good resolution later), but most are.
"But Mike! How can it be bad that people want to improve some part of their lives this year?"
Good question.
Perhaps the fact that my blog is about self-improvement would suggest that I think trying to improve your life is a good thing.
And I do.
The Problem With New Year's Resolutions
Ok, so what's the problem then?
Before getting into the problem, we need to know what a resolution actually is. Wikipedia defines a resolution as "a commitment that a person makes to one or more personal goals, projects, or the reforming of a habit."
Put simply, a resolution is a commitment to change.
The key word here is commitment.
Many people use their New Year's resolutions as a way to procrastinate. The resolution itself is their attempt to change, but they lack any real motivation or commitment to do what is necessary to make changes to their lifestyle.
It's easy to make a resolution to "be healthier in 2013". By making that resolution, you convince yourself that you are being proactive and doing something.
But you aren't. You are merely deluding yourself. Mental masturbation.
If you want to achieve your goals or change a habit, you need to be committed to doing what it takes to succeed.
And that is where the problem comes in.
If you really are motivated, then what is so special about New Year's?
With the right motivation, you can improve yourself any time you want.
Want to get in shape? Then start working out right now.
Want to get your finances in order? Start budgeting right now.
Trying to find a girlfriend? Then go out and start meeting girls right now.
There is no reason to wait for the new year. There is every reason to start now.
Why Your Resolutions Don't Stick
"But Mike, I am committed! I'm ready to make the changes I need to make."
Well that's the spirit!
Unfortunately, there are still many common mistakes people make when setting their New Year's resolutions, and I don't want you to fall prey to them.
Let's tackle a few of them now.
1. Your Resolution Is Too Vague
If your resolution is to "eat healthier", "get in shape", "get my finances under control", "meet new people", or "travel around the world", you will fail.
What does it mean to eat healthier? Who knows.
When your resolution is not specific, you have no way to measure whether or not you've made progress.
Worse still is that you can rationalize your actions and trick yourself into thinking that you are succeeding when you aren't. Sure, you ate an extra two servings of vegetables today. But what about the extra ice cream you ate too?
Make your resolutions specific. Instead of "I'm going to eat healthier in 2013", you should aim to lose five pounds per month or to eat ice cream only once per week.
The only way to know if you are sticking to your resolution is to give yourself criteria that will tell you if you are succeeding or not.
2. Your Resolution Is Unrealistic
Your resolution might be "to gain 50 pounds of lean muscle mass by March".
This is specific, which is great!
But it's also nearly impossible.
Whatever it is you want to achieve, make it reasonable. If it's too challenging, you will get frustrated and won't stick with it.
At the end of January when you've only gained five pounds of muscle mass, you realize that you can never reach your goal. So you stop working out, even though you've made progress.
Instead, try to gain ten pounds of muscle. You can do that.
You don't need to set low expectations for yourself, you just need to be realistic.
3. You Haven't Prepared Yourself
Your resolution will take real effort if you want to stick to it.
You need to be prepared, both mentally and with a thorough understanding what you are trying to do.
If you truly are motivated, then the mental preparation is mostly taken care of.
But since achieving your goal requires specific actions, you need to know what they are first.
Those ten pounds of muscle won't just magically appear. You need to know about various diet, exercise, and lifestyle techniques that you can use.
Don't get ahead of yourself. Do your homework and be ready to do what it takes to succeed at your resolution.
4. Your Resolution Makes Assumptions About Other People
Your resolution must be about you. Leave everyone else out of this.
If your resolution is to "work out with my girlfriend three times per week" or to "go on an around the world trip with my family", you will fail.
Everyone has their own agenda, and you can't rely on other people to change theirs.
Your girlfriend might not want to exercise, and your family might want to stay put.
Don't expect other people to change for you.
5. You Made Your Resolution At The Wrong Time
Maybe you aren't ready to make changes right now.
The circumstances in your life are an important factor in the success or failure of your resolution.
If you have a broken leg, you need to deal with that before achieving your goal of running a five minute mile.
New Year's might not be the right time for you.
If your goal must wait until February, then wait. It's no big deal.
Get the rest of your affairs in order before you make a resolution that you want to keep.
6. You Have 2389472389 Resolutions
You have specific, measurable, and realistic goals. They don't make assumptions about other people. You know exactly what actions you need to take, and you are ready to implement them.
Within the next few months, surely you will gain ten pounds of muscle, pay off your credit card debt, quit smoking, and spend an hour per day with your family!
Not so fast.
Doing all these things at once is an awful lot to ask of yourself.
You don't have an unlimited supply of willpower. And it takes a lot of willpower to stick to your resolutions.
You only have so much self control before temptations become too powerful, as recent neuroscience research shows1.
Don't do too many things at once. Make just one or two New Year's resolutions and focus on them. Save the rest of your goals for later.
Conclusion
The vast majority of people will fail to stick to their New Year's resolutions for more than a month. As you can see now, there are many reasons why.
But don't let that stop you from taking steps to improve yourself. There are reasons why people fall of the horse, and now you know the most common ones.
You are smart and can learn from other peoples' mistakes. Instead of making a New Year's resolution "just because", do what it takes to set and achieve goals all year round.
What new goals do you have for 2013?
Footnotes:
1. http://online.wsj.com/article/SB10001424052748703478704574612052322122442.html
Related posts: