We take a helluva lot for granted.
So often we forget that all the great things we have aren't there only because of our own efforts. Rather, everything we have is only there due to a massive group effort.
Sure, you may have purchased the computer you are reading this on. You may have even built it yourself from spare parts.
But either way, I'll bet you didn't create each of those individual parts, and I'm very confident you didn't mine the metals required to put it together.
Nor did you do any of the research involved in making the technology possible in the first place.
In fact, for every final good we consume, there are probably thousands of people or more who are involved in making it possible for us to consume it.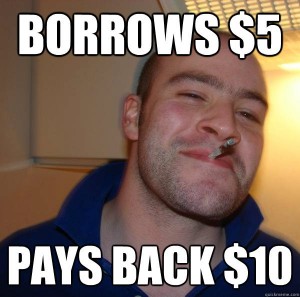 So…who cares? Why does this matter? And what does it have to do with Jews?
It's actually quite simple.
We need other people in order to enjoy the luxuries that we get to consume on a daily basis.
This does not imply that we lack independence.
Rather, it is just a reflection of how interdependent we all are.
In other words, were it not for the efforts of some anonymous group of thousands or millions of individuals, we would not be able to enjoy the things that we do.
Isn't this interesting, though?
We go through our day using all of these things that we simply could not have used without the aid of other people.
It's a miraculous thing that somehow, through the workings of the invisible hand, we have everything that we have.
For some reason, not very many people express their gratitude for this.
An exception, of course, is the Jewish people, who say a prayer before and after every meal (Jews also pray for many other things, but food is what I want to focus on. And it's not just Jews; other cultures do this as well).
The prayer is a thank you to their God for providing that food for them. In this way, they are recognizing how great of a thing it is to have that food in the first place.
Most people just scarf down their food without thinking about it at all.
Besides the negative impact on digestion that this has, it also ignores a powerful and very easy way to improve our happiness by expressing gratitude.
We don't need to use the same prayers that are used by Jews.
This need not be a religious or spiritual practice at all; our requirement is that it involves an expression of gratitude for something that you could not have done alone.
Today, we are going to design our own personal Pre-meal Expression of Gratitude (PEG). This should be a totally individual thing, and I encourage you to use one that is different from mine.
Here are the three characteristics of a good PEG:
It should be short enough to memorize.
It needs to acknowledge someone or something besides your self as a contributing source for the food
It must be congruent with your own personal beliefs.
Let's go through these one at a time.
First, it needs to be relatively short. This is something we will be saying or thinking to ourselves before every time we eat, so we need to be able to remember it.
Everyone is different here, but I would limit my PEG to two normal sized sentences (no massive run on sentences here).
The next requirement for our PEG be that it acknowledges a different source than yourself for the food you are about to eat. This is the entire point of this exercise.
Different people may have different sources. For example, God for a religious person, the government for an avowed communist, etc. Take some time to think this through, because you need to really believe in this source for the exercise to be effective, which brings us to the last point.
Finally, your PEG must be congruent with your own personal beliefs.
If you actually put some thought into the previous step this should be taken care of. That being said, it is always useful to test whether or not it is congruent.
Therefore, once you have come up with your PEG, try saying it or thinking it before each and every time you eat for the next week. If you don't notice any emotional resonance with your PEG, then it is probably not congruent, and you should change it around. Keep testing until you find one that works for you.
To help get you started, here is my PEG: "This food, which I need to stay alive, is only here due to the combined efforts of millions of individuals brought together by the invisible hand."
Feel free to use mine, but it must be congruent. Go out and use your PEGs, and let me know how this makes you feel!
Related posts: